Veal NY Style Striploin Steak with Cherries and Sherry Sauce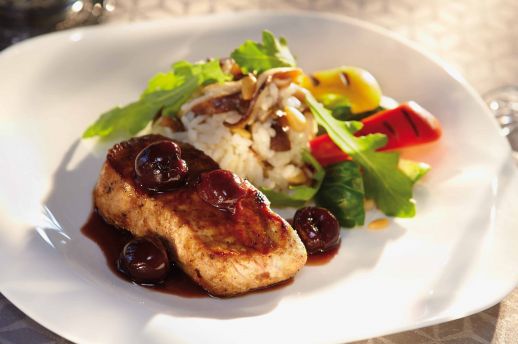 You can hear the sizzle as it cooks, breath in the irresistible aroma and practically taste the seared, juicy steak.

Ingredients
4 veal strip loin boneless steaks, 170 g (6 oz.) each – 1 inch thick
Salt and black pepper to season
Olive oil (enough to coat the bottom of a cast iron pan)
Sauce
30 ml (2 tbsp.) butter
250 ml (1 cup) sherry
250 ml (1 cup) veal stock
398 ml (14 oz.) pitted bing cherries without the juice (drained)
250 ml (1 cup) demi-glace sauce
Preparation
Pull steaks from refrigerator and let them rest on a plate at room temperature for about 20 minutes. This step is important because when you cook steaks in the pan it will cook more evenly.
Cover all sides of steak with salt and pepper.
In a large cast iron skillet, poor enough olive oil to coat the entire bottom of the skillet. Place the pan on a burner and put it on high heat.
Use tongs to place the steak into the hot oil. At these high temperatures be careful there will be a lot of oil splatter. Cook for 1 minute then flip to the other side for 1 minute. Flip the steak on its side and sear the edge until it is colored like the rest of the meat and do this for all sides.
Now that the steak has been seared on all sides. Turn down the heat of your stove to medium. Continue cooking the steak on each side for 1 minute intervals until you have reached your desired doneness. Cook about 5 minutes total per inch for medium-rare.
Transfer to platter and tent with foil to keep warm.
Melt butter in a skillet over high heat and deglaze the skillet with the sherry.
Add veal stock and cherries.
Let simmer a few minutes, add demi-glace sauce and adjust seasoning, if necessary.
Spoon sauce onto plates, arrange veal steaks on sauce.
Place whole cherries to decorate plate.
Serve steaks with grilled peppers, shiitake risotto, grilled almonds and pine nuts, garnish with arugula.