Veal Scaloppini with Oranges and Triple Sec Sauce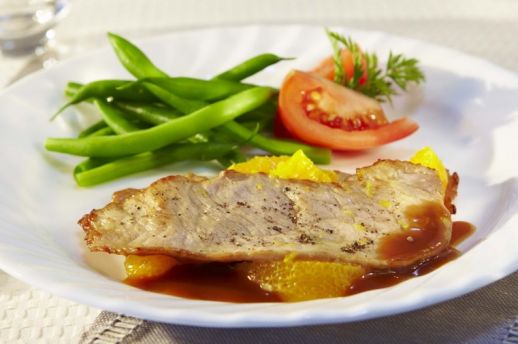 The scaloppini is a hight choice piece of veal. Soft and delicate, scaloppini is perfect with the tangy scent of orange giving it a flavored taste that remains in the mouth. Very different to the old veal scaloppini recipes.

Ingredients
4 veal cutlets or scaloppini, 115 g (4 oz.) each
60 ml (4 tbsp.) olive oil
125 ml (1/2 cup) Triple Sec
250 ml (1 cup) demi-glaze sauce
Salt and pepper
60 ml (4 tbsp.) butter
60 ml (4 tbsp.) sugar
2 oranges peeled, cut into wedges, skin removed "orange supremes"
Preparation
Heat olive oil in a skillet over high heat. Add veal cutlets and brown quickly on each side. Remove veal from skillet and keep warm.
Deglaze skillet with Triple Sec to recover the pan juices.
To skillet, add demi-glaze sauce, salt and pepper. Let simmer for a few minutes.
To glaze the orange supremes, melt butter in a pan and add sugar. Once the sugar has dissolved, add the orange segments and sauté them quickly. Then remove from pan and keep warm.
Coat the bottom of serving plates lightly with the sauce, add the glazed "orange supremes" and arrange veal cutlets on top. Serve with green beans and tomatoes cut in wedges.