Veal Parmigiana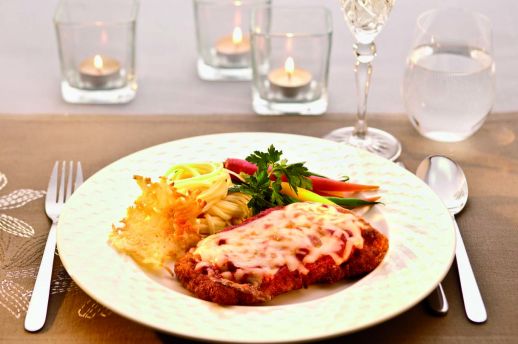 A veal classic - all will enjoy! Tender pieces a veal in a crispy Italian style breading layered with tomato sauce and a blend of parmesan and mozzarella cheese. Enhance this dish and spice up the tomato sauce with capers or black olives and hot pepper sauce for a little heat.

Ingredients
4 - 115 g (4 oz.) breaded cutlets
375 ml (1 ½ cup) of your favorite tomato sauce
125 ml (1/2 cup) parmesan cheese
4 slices - mozzarella cheese
30 ml (2 tbsp.) butter or as needed
30 ml (2 tbsp.) olive oil or as needed
Parsley (optional)
Preparing breaded cutlets from scratch
125 ml (1/2 cup) all-purpose flour or as needed to coat cutlets
125 ml (½ cup) Italian seasoned bread crumbs or as needed
1 large egg
60 ml (¼ cup) milk
80 ml (1/3 cup) olive oil (adding more if needed)
30 ml (2 tbsp.) butter
Put bread crumbs in a pie plate and set aside. In a shallow bowl, whisk egg and milk and set aside.
On a plate, spread the flour. Coat delicated veal cutlets with flour and shake off the excess.
Dip cutlets in egg mixture and then coat them with Italian bread crumbs patting them to make sure crumbs adhere.
Heat olive oil and butter in a large skillet over medium high heat.
Add veal and sauté until lightly browned, 2-3 minutes on each side, add more oil if needed.
Breaded veal cutlets are now ready to be baked according to preparation for veal parmigiana.
Preparation
Preheat oven 350°F (180°C).
Lightly oil a baking pan or shallow baking dish. Spoon into the pan 1/2 cup of the tomato sauce. Arrange the breaded veal cutlets over the sauce, slightly overlapping them.
Cover breaded cutlets with remainder of tomato sauce.
Top breaded veal and sauce with mozzarella slices and parmesan cheese.
Cover baking pan with aluminum foil and bake in the center of the oven for 25-30 minutes.
(Optional) To brown the top, remove the foil and run the dish briefly under a broiler, watching carefully not to overcook.
Serve with a side of vegetables and risotto or pasta and garnish plates with parsley (optional).

Recipe provided by Alain Fortier, chef and training consultant for Quebec Milk-Fed Veal.