Veal Chop Milanese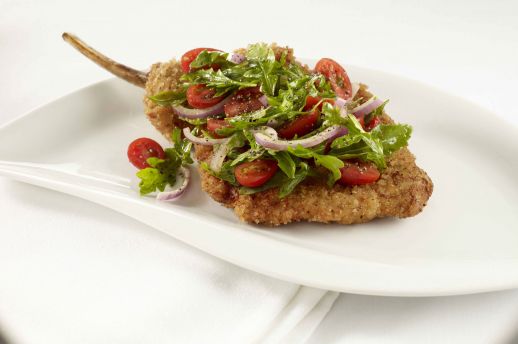 A favourite for those special occasions is a thinly pounded veal chop served on the bone. It's breaded and lightly pan-fried so that it's crispy on the outside and still juicy and tender, topped with a light arugula salad.


Ingredients
Serves 4
4 veal chops, bone in, pounded out very thin, about ¼-inch thick
Salt
Freshly ground pepper
500 ml (2 cups) all-purpose flour
3 large eggs
500 ml (2 cups) plain breadcrumbs or panko crumbs
125 ml (½ cup) parmesan cheese, grated
5 ml (1 tsp) dried parsley
2 ml (½ tsp) dried oregano
2 ml (½ tsp) dried basil
2 ml (½ tsp) onion powder
2 ml (½ tsp) garlic powder
Extra-virgin olive oil, as needed, for frying
For the salad topping:
750 ml (3 cups) arugula, packed
15 ml (1 Tbsp.) Balsamic vinegar
15 ml (1 Tbsp.) extra-virgin olive oil
125 ml (½ cup) cherry tomatoes, halved
1 red onion, sliced
Lemon wedges, for serving
Preparation
Preheat the oven to 200⁰F (95⁰C). To keep chops warm.
Season the veal chops with salt and pepper on both sides.
Place the flour in a shallow bowl. In a second shallow bowl beat the eggs. In the third shallow bowl combine the breadcrumbs (or panko crumbs), parmesan cheese, parsley, oregano, basil, onion powder and garlic powder.
Dredge the veal on both sides in the flour mixture then the egg mixture. Gently press the veal chop into the breadcrumb mixture so that it is lightly coated on both sides.
Heat a large skillet or sauté pan over medium heat. Add enough olive oil to cover the bottom of the pan.
Add veal chops, one at a time, to the hot oil and pan-fry until golden brown, 3 to 4 minutes. Turn the veal chop and continue to cook until golden brown about an additional 3 to 4 minutes. Transfer the veal chop to a baking sheet and keep warm in the oven. Repeat with the remaining veal chops.
For the arugula salad topping:
In a medium mixing bowl toss the arugula with the balsamic vinegar, olive oil, red onion and tomatoes.
Place a veal chop on each plate, and top with a handful of the arugula salad. Serve with a lemon wedge on the side.
You can also serve the chops with fresh pasta.