Herb crusted rack of lamb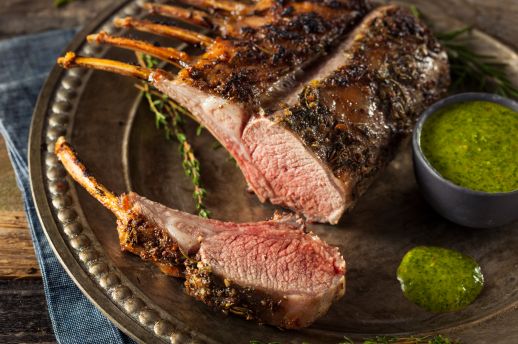 Switch it up and try a rack of lamb instead of steaks. You will not be disappointed with this incredible succulent, tender and juicy cut of meat. It is elegant and impressive, it makes a perfect treat for a special occasion!


Ingredients
Serves 2
1 rack of lamb with 8 chops
Salt and pepper, season rack
15 ml (1 Tbsp.) extra virgin olive oil
15 ml (1 Tbsp.) butter
250 ml (1 cup) panko breadcrumbs or Italian style breadcrumbs
grated zest of 1 lemon
2 garlic cloves, finely chopped
15 ml (1 Tbsp.) fresh mint, minced
15 ml (1 Tbsp.) fresh parsley, minced
5 ml (1 tsp.) rosemary
salt and pepper, for breadcrumb mixture
60 ml (¼ cup) extra virgin olive oil, as needed for breadcrumb mixture
60 ml (¼ cup) Dijon mustard
Preparation
Preheat the oven to 350 ⁰F (180 °C).
Trim the majority of the fat off the lamb and clean the bones if needed. Season both sides of the rack with salt and pepper.
Heat vegetable oil and butter in a large skillet over high heat, then sear the lamb until browned on all sides. Remove the lamb from the pan and set aside in a baking dish.
Combine breadcrumbs, lemon zest, garlic, mint, parsley, rosemary, salt, and pepper in a bowl. Drizzle olive oil over the breadcrumb mixture, and mix until breadcrumbs are thoroughly coated.
Spread the Dijon mustard over the browned rack of lamb that was set aside, take the breadcrumb mixture and press it onto the rack of lamb until it sticks and forms a crust.
Roast the rack of lamb on the top rack of the oven. For medium-rare, bake for about 10 minutes or until meat thermometer reads about 60 °C (140 °F). Remove from the oven. Cover with aluminum foil and let rest a few minutes before slicing.
Carefully cut into double chops, or single chops. Serve with herb roasted baby potatoes, asparagus, or other appropriate sides.
Note: If the breadcrumbs are not browned by the time the meat is done, you can broil it until golden. Be sure to watch closely, as it can easily burn.