Veal Osso Buco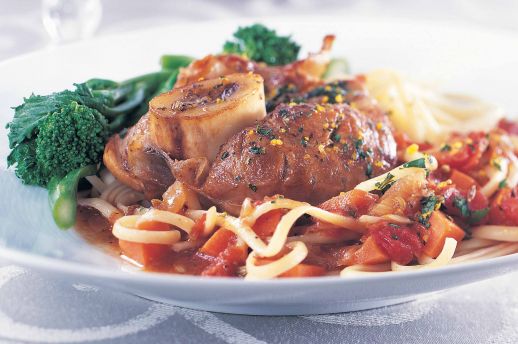 This dish's primary ingredient, veal shank, is used in the classic osso buco. This traditional recipe is full of flavor and so tender. Typically prepared by braising, the meat will fall off the bone and melt in your mouth.

Ingredients
60 ml (1/4 cup) flour or as needed
10 ml (2 tsp.) dried thyme
10 ml (2 tsp.) dried oregano
4 veal shanks (approx. 1 kg/2 lbs.)
45 ml (3 tbsp.) olive oil
1 onion, chopped
3 large carrots, coined
250 ml (1 cup) white wine
375 ml (1 1/2 cup) beef bouillon or veal stock
1 can (398 ml/14 oz.) tomato sauce
10 ml (2 tsp.) fennel seeds
2 Italian tomatoes, diced
125 ml (1/2 cup) fresh parsley, chopped
1 garlic clove, chopped
Zest of one lemon and one orange
Salt and pepper to taste
Preparation
In a shallow dish, mix flour, thyme and oregano.

Gently pat veal shanks dry with a paper towel. Dredge shanks in seasoned flour mixture and shake off any excess flour.

In a large saucepan, heat oil over high heat. Brown veal shanks for 5 minutes or until golden on all sides. Add onion and carrots. Cook while stirring for 2 minutes. Add wine, beef bouillon or veal stock, tomato sauce and fennel seeds. Mix well. Bring to a boil and reduce heat to low. Let simmer uncovered for 5 minutes. Cover and let simmer for 2.5 to 3 hours or until meat is tender.

Add tomatoes, parsley, and garlic, lemon and orange zest. Salt and pepper to taste. Stir gently.

Serve with linguini and broccoli florets.